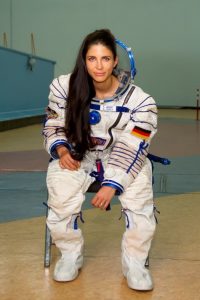 Ms Winterling applied for the initiative of DieAstronautin in April 2016. This commercial endeavor,  set up by HESpace a company well-known in the space business industry, is about to select the first female German astronaut. More than 400 young German women applied.
After a preselection in summer 2016, 120 candidates remained. 90 were invited to participate in several cognitive skill tests conducted by the German Aerospace Center in Hamburg. Only one third made it to the next round.
Ms Winterling was one of those remaining 30 potential female astronaut candidates.
Even though she did not make it to the final round of 6, Ms Winterling is now supporting the initiative as the PR and Media Representative of the finalists, brining in her tremendous skills and qualifications after working for almost 10 years in the field of Human Space Flight, ESAs manned space missions and an Astronaut Instructor
Space Time Concepts became a valuable partner in the future development of the Astronaut Training for the 2 finalists and will be involved and several different areas of DieAstronautin until launch in 2020.